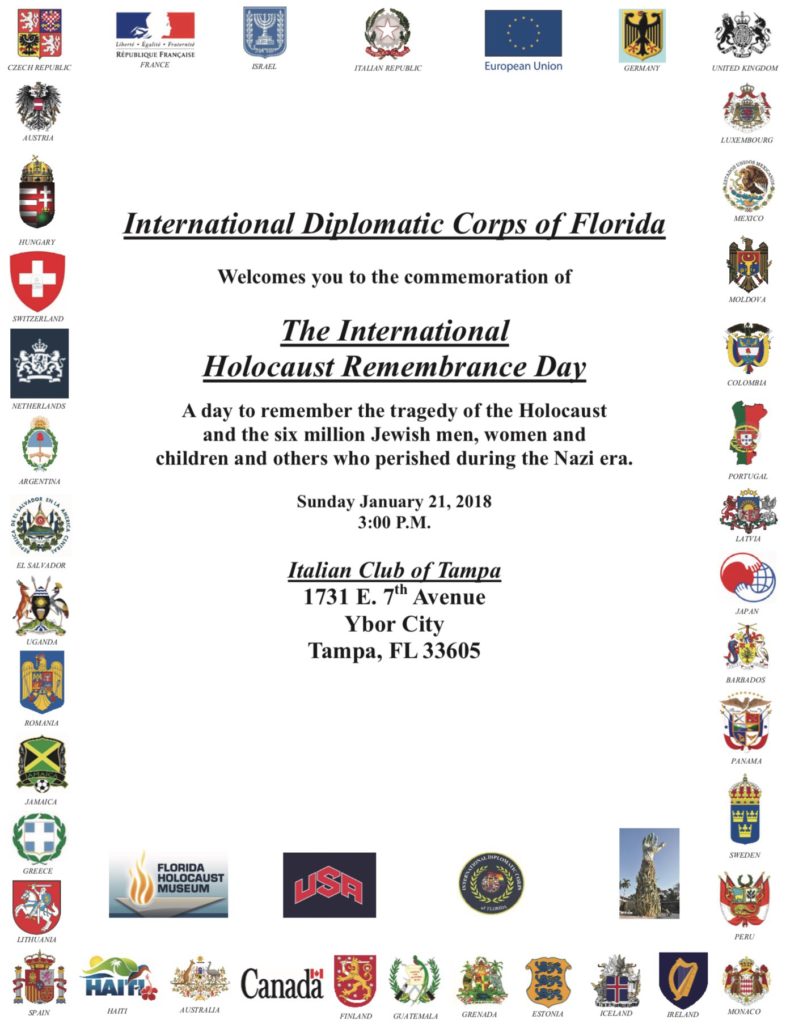 PROGRAM- 1/21/2018- 3:00 p.m.
Music: Jill Pfluke (Violinist)- traditional and  modern Jewish and Yiddish favorites. (at 2:00  to 3:00 P.M.)
BACA- (Bay Area Cantorial Association) – Eli Eli.  Words of the courageous resistance fighter, Israeli patriot, poet, and Holocaust martyr Chana Senesh who was captured, tortured, executed by the Nazis while attempting to rescue fellow Hungarian Jews. This setting is by native Floridian, Cantor Rachelle Nelson, who serves Temple Beth Am of Miami.
City/County/ Senate/State- Proclamation
Vincent Genovese, Executive Director- Welcome guests
Consul General of Germany, Annette Klein- Opening remarks
Rabbi Anne Feibelman- introduces the candle lighting ceremony with brief words of explanation and a prayerful intention. (Music: Tara Swartzbaugh, Pianist & Jill Pfluke, Violinist)
MacDill A.F. Color Guards
Candle-lighting Ceremony– by six Holocaust survivors escorted by Consuls: Li-Qiangmin (China), Annette Klein (Germany), Clement LeClerc (France), Susan Harper (Canada"), Dimitrios Sparos (Greece), Horacio Saavedra (Mexico).
BACA: We Remember Them (Music by Bob Applebaum, based on a poem by Rabbi Jack Riemer and Rabbi Sylvan Kamens).
Betty Grebenschikoff-Reflections by Holocaust survivor who escaped to Shanghai, China
Ambassador, Consul General of China, Li-Qiangmin
Deputy Consul General of Israel, Guy Gilady
BACA. – Ani Maamin (Traditional Folk Melody).  The most heart piercing hymn to survive the Nazi death camp
Steven Bernstein, Chairman, Greater Tampa Chamber of Commerce
Ambassador Barbara Stephenson, President of American Foreign Service Association
BACA member  Laura Berkson  chants El Maleh Rachamim, the traditional prayer asking God to grant perfect rest to the souls of the six million Jewish men, women and children who suffered numerous forms of unnatural death at the hands of the Nazis and their collaborators.
Rabbi  Carla Freedman recites Kaddish, the traditional Jewish memorial prayer that is said to honor the lives of individuals and the martyrs of the Jewish people.
 BACA. –  Adonai Roi. (Gerald Cohen) Psalm 23: The Lord is My Shepherd.